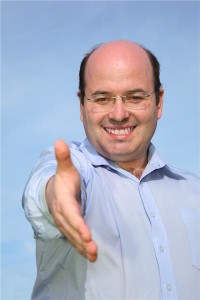 For dads who are bald, the future may look grim. Living a life with a thinning head of hair is certainly not ideal, but according to MyHealthNewsDaily, there may be hope for reversing the progression of male-pattern baldness after all.
The optimism comes from results of a recent study that found that one of the most significant causes of baldness is likely due to the inability of stem cells in the scalp to develop into cells that make hair follicles. This is a divergence from the commonly held belief that baldness emerged from an absence of hair follicle cells altogether.
George Cotsarelis, a professor of dermatology, told the news source that if the stem cells were "gone or markedly depleted, it would be much more daunting, but because they're there, it tells us there should be a way" to stimulate growth.
While it does offer hope, for now there are only several baldness treatments available. Name brands such as Propecia and Rogaine have shown to be mildly effective, and according to the American Hair Loss Association, 65 percent of users have experienced a considerable growth in hair.