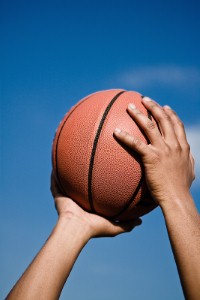 March Madness – the name says it all. You've sat and waited patiently as the women of the house wrested control of the remote to watch figure skaters daintily dance across the TV screen during the winter Olympics. You've whet your appetite for college hoops with endless hours of video games and beer pong tournaments.
But sore thumbs and a hangover have done little to satisfy that desire for die-hard competition that you've been yearning for since last March.
With this year's bracket set in stone, get ready for a hefty dose of that pleasure you've been looking forward to all year: severe mood swings, chronic sweating, loss of appetite and trouble at work. Finally!
It can be easy to use the expression "March Madness" as a suggestion or an excuse for your sudden, irrational behavior, but considering the state of the job market, maybe it's best to play it safe this year.
And for fathers with little girls in the house, maybe this is the year you decide to impart some fatherly wisdom on athletics, rather than repulsing your daughter, making her shy away from sports for the rest of her life.
Three March Madness tips for the fanatical fathers:
1. When saddling up in front of the TV with your daughter this year, try to be politically correct. Keep alcohol consumption to a minimum, don't refer to the cheerleaders' "Gonzagas", and remember – there's a women's tournament too!
2. Don't trick your daughter into watching the tournament by referring to a "Cinderella team." A creative technique, but it won't take long for her to figure out the difference between Prince Charming and Dick Vitale.
3. Explain that if your team doesn't win, it's not the end of the world – there's always college football.