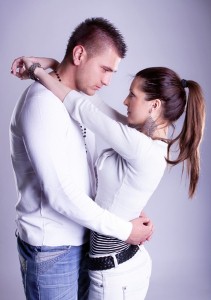 Most dad's think they have Valentine's Day figured out. Pick up some flowers, chocolates and a thoughtful card and you've got a one-way ticket to performing the horizontal tango, right? Wrong. While theseare all nice gestures it may take more than the age-old tricks to prevent spending an early night alone in bed.
But fear not, there are several unique ways you can woo your woman and begin February 15th with a spring in your step.
1. Purchase a personalized gift. At face value, there may not be anything romantic about a pair of basketball (or baseball or football) tickets. However, if your wife is a huge fan and never gets to go, snagging a pair of good seats and taking her out to dinner beforehand will allow her to be putty in your hands.
2. Put a spin on a traditional gift. There's nothing wrong with flowers, but it gets old after a while. Instead, why not add you own personal touch to the bouquet. A favorite memory on each stem can remind her why she loves you in the first place.
3. Pay attention to the date. Some parents do not get many opportunities to go on a date, and dads should not pass up the opportunity to do something unique. Forgo the usual dinner at a French restaurant for a wine tasting or romantic concert, or take her on a tour of locations that hold true significance to your relationship.