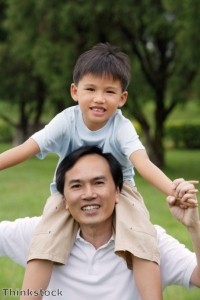 Father's Day is right around the corner, and if your family is like most, they'll be slinking away over the next few days to pick up a last-minute gift for the man of the house. You might think that hasty Father's Day shopping means that your gift may not be as thought-out as you'd hoped, but at least you've got a few extra days to drop hints and campaign for that perfect present.
While circling items in catalogs conveniently left open about the house may work for a mother pushing for the ideal present, your magazine is more likely to be mistaken for the December 2009 issue of the Sporting News and be tossed out rather than scanned for gift ideas.
So, fathers of the world, you'll have to work a little harder if you want to portray just how badly you want that new set of golf clubs, box of cigars, or permission to doze off on the couch without someone jumping on your stomach or tying your shoes together.
Consider the top four ways to hint at the Father's Day present that would make your year:
1.) Use your kids' lunches: A secret that most mothers know, but dads may be unaware of – if you pack your kids' lunches, they actually take the time to read the notes you leave them. Presumably the same will work for a list of things dads need to feel loved.
2.) Guilt: Pull out the birthday gifts that kids no longer use, and the earrings that you bought your wife, but she never wears – and muse, aloud, at how you'd never let such an endearing present go unused.
3.) Sigh mournfully every time you see an iPad. When possible, get others involved and spout gems like, "Wow, doesn't Phil look so loved and respected over there with his new iPad?"
4.) Refuse to go to work until you get a new TV: Really put the pressure on and show how much you're worth with a good-old-fashioned standoff.
Follow these rules, and you'll surely feel appreciated this Father's Day. And if they don't work, feel free to hide under your bed, throw a temper tantrum and defiantly claim – "This is the worst Father's Day ever!"