My kids are 7 and 11, so finding games that both will play is already a trick. But finding a game that I find fun is also a challenge. We've been trying fast-paced card games and have found a few to recommend.
This genre I believe, is relatively recent. These card games requires the ability to read symbols or do simple addition at a fast pace while slamming cards down. Each new card changes the problem to be solved, and while none of the challenges are very hard, it is hard to solve one after another in quick succession to win the game.
Here are the games that we have tried.
1. Blink (Mattel) – This was the first game of this type we had ever seen and has been a favorite of ours over many airplane trips. Made by the makers of UNO (now Mattel), Blink is marketed as the "World's Fastest Game." Each of the 60 cards has one to four symbols in four different colors. The objective is to put down cards as quickly as possible that match symbol, number or color. The game moves very fast and takes probably under 90 seconds to play. It's perfect for playing while waiting for a plane to take off or when you need something to fill in a short amount of time. It will challenge both young and old and, like the other games, it's always interesting, though you may not always have the energy for it.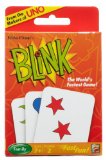 Ages 6+; for two players
2.  7 ATE 9 (Out of the Box)- 7 ATE 9 requires quick addition and subtraction as player try to do simple math on a card to find the two numbers they need to match with cards in their own hands. The math is simple (ex. 5 an 3), but players need to either subtract or multiply to solve for the number they need to match (in this case, cards with either 8 or 2 would be a match). Game play is swift, but we found without a lot of humor.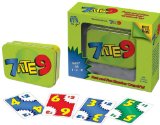 Ages 8+; for 2-4 players
3. Spot it! (Blue Orange) – The genius of this game is in the design of its 55 cards. Each card has eight cartoon-like, but common symbols (ex. bonfire, candle, apple, snowflake), but two cards have only one symbol in common. In all variations of the game, players are trying to frantically find matching symbols. It sounds simple but it is devilishly hard, and maybe harder because symbols are often larger on one card than on another. This is a game that is often won by either the very old or very young and can be played many times without getting bored. And it's great in a situation when you want to play with non-readers or non-English-speakers. This was our favorite game of the those we looked at.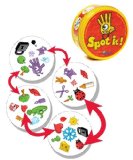 Ages 6+; for 2-8 players
4. Super Circles (Out of the Box) – Super Circles uses a different system to challenge the brain. In this case, the players try to match up colored circles that also have identical numbers to create a match. This game can also be exciting since a "4" can be red on one card and yellow on another. Players also get lost staring into the brightly-colored concentric circles on the cards.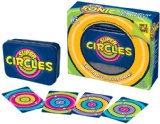 Ages 7+, for 2-4 players
5. Spud (Fat Brain Toys) – Unlike the other games, this one is played with two sets of cards: cards that show how many potatoes you have and direction cards that tell you what to do with the potatoes. Again, the orientation is on moving fast, but here you are reacting to what is written to do on the cards, all of which involves moving your different types of potatoes around the board. Your potatoes are individual with one or more potato types, including baked and fries. Cards say, "Move left" and you just throw your potato to the person to your left. The objective is to move as fast as you can and never end up with five potatoes in front of you. Game speed is fast and spuds are going all over, which, for better or worse, can bring out the silly in some kids and dads.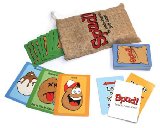 Ages 6+, 2-4 players
All of these games require a certain amount of honesty among all players since mistakes and cheating are al but impossible to detect. They are all perfect for travel and all are available in travel tins (except Spud, which comes in a mini potato sack). MSRP in almost all cases is right around ten bucks, with some significantly lower prices on Amazon.
GreatDad.com Review Policy: Some of the products for this review were provided to us, at no cost, by the manufacturer or representing PR agency for the sole purpose of product testing. We do not accept monetary compensation for reviewing or writing about products. We only review products that we have personally tested and used in our own homes, and all opinions expressed are our own.