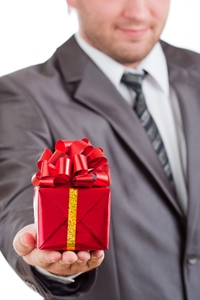 Moms-to-be are used to getting all the attention when it comes to having a baby, but as a father, you may now be able to join in on the fun as well.
And who do you have to thank for this? None other than Jessica Simpson. The new mom of two is reported to have given her fiance, Eric Johnson, his own "push present" after the birth of their son two months ago.
You may be scratching your head and wondering – what's that exactly? A push present is a gift given (usually) to moms as a thank you from dads for the nine months spent carrying a baby. These presents typically include a baby's birthstone or another blinged out kind of gem.
But as a dad, there's no rule saying you shouldn't get one either. After all, waiting for your son or daughter to be born is no easy task, and a push present can be a cute way to celebrate the impending arrival. With the right amount of hinting, your loved ones are sure to figure out what suits you best, but here are a few suggestions.
1. A watch
Why wait for Father's Day presents when you can get the watch you always wanted? Consider having it engraved with your kid's birth date to give it extra sentimental value.
2. Any tech device
Have you had your eye on a new smartphone or an iPad? Now's the time to splurge and let yourself enjoy the fruits of your labor – waiting, that is.
3. Messenger bag
Never downplay the value of a sharp-looking messenger bag, especially when you can use for everything from the workplace to times out with your son or daughter. Having someone purchase you a nice one can be a great way to honor the arrival of your baby.