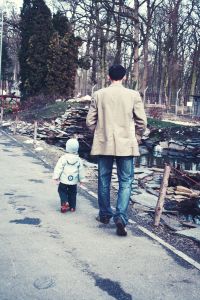 Looking for that perfect quote to include in a homemade Father's Day card for dear ol' dad? Below you will find a collection of inspiring, witty, thought-provoking, sentimental, and sweet quotes to help you express how you feel towards that special man on his special day.
Funny Father's Day Quotes
"It is a wise father that knows his own child."
– William Shakespeare

"When I was a boy of fourteen, my father was so ignorant I could hardly stand to have the old man around. But when I got to be twenty-one, I was astonished at how much the old man had learned in seven years."
– Mark Twain
"By the time a man realizes that maybe his father was right, he usually has a son who thinks he's wrong."
– Charles Wadsworth

"A man knows when he is growing old because he begins to look like his father."
– Gabriel Garcia Marquez
"To be a successful father, there's one absolute rule: when you have a kid, don't look at it for the first two years."
– Ernest Hemingway
"A wise son maketh a glad father"
– Proverbs 10:1
"Fatherhood is pretending the present you love most is soap-on-a-rope."
– Bill Cosby
My father used to play with my brother and me in the yard. Mother would come out and say, "You're tearing up the grass." "We're not raising grass," Dad would reply. "We're raising boys."
– Harmon Killebrew

Insightful Father's Day Quotes
"He who is taught to live upon little owes more to his father's wisdom than he who has a great deal left him does to his father's care."
– William Penn
"The most important thing a father can do for his children is to love their mother."
– Henry Ward Beecher
"To her the name of father was another name for love."
– Fanny Fern
"Fathers, like mothers, are not born. Men grow into fathers and fathering is a very important stage in their development."
– David Gottesman
"You know, fathers just have a way of putting everything together."
– Erika Cosby
"I cannot think of any need in childhood as strong as the need for a father's protection."
– Sigmund Freud
"That is the thankless position of the father in the family-the provider for all, and the enemy of all."
– J. August Strindberg
"If the new American father feels bewildered and even defeated, let him take comfort from the fact that whatever he does in any fathering situation has a fifty percent chance of being right."
– Bill Cosby
"For rarely are sons similar to their fathers: most are worse, and a few are better than their fathers."
– Homer
"I just owe almost everything to my father [and] it's passionately interesting for me that the things that I learned in a small town, in a very modest home, are just the things that I believe have won the election."
– Margaret Thatcher
"Fathers, like mothers, are not born. Men grow into fathers – and fathering is a very important stage in their development."
– David M. Gottesman
"Every mother generally hopes that her daughter will snag a better husband than she managed to do…but she's certain that her boy will never get as great a wife as his father did."
– Anonymous
"Father I cannot tell a lie. I did it with my little hatchet."
– George Washington
"A good father is one of the most unsung, unpraised, unnoticed, and yet one of the most valuable assets in our society."
– Billy Graham
"If you think about it seriously, all the questions about the soul and the immortality of the soul and paradise and hell are at bottom only a way of seeing this very simple fact: that every action of ours is passed on to others according to its value, of good or evil, it passes from father to son, from one generation to the next, in a perpetual movement."
– Antonio Gramsci
"If the past cannot teach the present and the father cannot teach the son, then history need not have bothered to go on, and the world has wasted a great deal of time."
– Russell Hoban
"If the relationship of father to son could really be reduced to biology, the whole earth would blaze with the glory of fathers and sons."
– James Baldwin
"A king, realizing his incompetence, can either delegate or abdicate his duties. A father can do neither. If only sons could see the paradox, they would understand the dilemma."
– Marlene Dietrich
"I've had a hard life, but my hardships are nothing against the hardships that my father went through in order to get me to where I started."
– Bartrand Hubbard
"My father didn't tell me how to live; he lived, and let me watch him do it."
– Clarence B. Kelland
"One father is more than a hundred schoolmasters."
– 17th century English proverb
"For thousands of years, father and son have stretched wistful hands across the canyon of time."
– Alan Valentine
"Blessed indeed is the man who hears many gentle voices call him father!"
– Lydia M. Child
"Lucky that man whose children make his happiness in life and not his grief, the anguished disappointment of his hopes."
– Euripedes
"None of you can ever be proud enough of being the child of such a Father who has not his equal in this world – so great, so good, so faultless. Try, all of you, to follow in his footsteps and don't be discouraged, for to be really in everything like him none of you, I am sure, will ever be. Try, therefore, to be like him in some points, and you will have acquired a great deal."
– Queen Victoria of England
"Those who trust us educate us."
– T.S. Eliot
"Sometimes the poorest man leaves his children the richest inheritance."
– Ruth E. Renkel
"You don't have to deserve your mother's love. You have to deserve your father's. He's more particular."
– Robert Frost
"Any man can be a Father but it takes someone special to be a dad."
– Anne Geddes
"Father! – to God himself we cannot give a holier name."
– William Wordsworth
"The words that a father speaks to his children in the privacy of home are not heard by the world, but, as in whispering-galleries, they are clearly heard at the end and by posterity."
– Jean Paul Richter
"I love my father as the stars – he's a bright shining example and a happy twinkling in my heart."
– Adabella Radici
"A truly rich man is one whose children run into his arms when his hands are empty"
– Author Unknown
Do you know any other Father's Day quotes? Let us know using the comment form below.