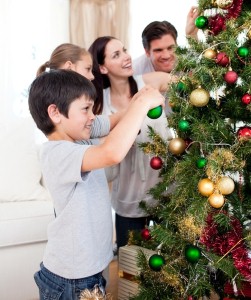 When it comes to Christmas, family matters. While you might receive every present on your list and have the best decorated house on the block, the best part of the Christmas season is spending quality time with your children, wife, siblings and parents. Along with decorating the tree and sharing a delicious Christmas dinner, a favorite tradition among many families is sitting down with a classic Yuletide film. Here are some classic Christmas movies recognizing more of the greatest, funniest and most heart-warming dads around.
Howard Langston – Jingle All the Way
Arnold Schwarzenegger stars in this 1996 family comedy as Howard Langston, a typical workaholic dad who never seems to find time for his wife, Liz, or son, Jamie. After repeatedly disappointing Jamie, Howard attempts to make his son's greatest Christmas wish come true by purchasing a Turbo-Man action figure, the must-have gift of the season. However, this last-minute resolution proves nearly impossible, as Howard cannot find the action figure anywhere in the Twin Cities of Minnesota. To make matters worse, a rival dad, Myron Larabee (Sinbad), becomes Howard's fiercest competitor in locating a Turbo-Man – sparking a no-holds-barred race to the finish on Christmas Eve.
George Bailey – It's a Wonderful Life
Often considered one of the best and most classic Christmas films of all time, Frank Capra's It's a Wonderful Life is a true testament to the power of family during the holiday season. The film stars Jimmy Stewart as George Bailey, the manager of the town's Building and Loan office. After a life of sacrificing his hopes and dreams for the wellbeing of his family, friends and community, George feels that he has come to the end of his rope. His situation worsens when forgetful Uncle Billy loses a large sum of money for the Building and Loan – prompting George to attempt suicide by jumping off a bridge. However, a guardian angel named Clarence arrives to show George what the world would look like if he had never been born.