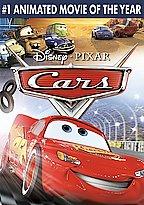 Move aside fairy tale characters, here come the Cars… the latest toons to hit the circuit. From the house of Pixar, this animation flick is bound to thrill, entertain, and induce that adrenalin rush.
Cars is the story of Lightning McQueen (Owen Wilson), an ambitious newbie on the rise in the racing arena. He soon lands in trouble, and is ordered community service by Judge Hudson (Paul Newman). It's now that Lightning meets a bunch of locals (George Carlin, Cheech Marin, Larry the Cable Guy, and Bonnie Hunt), and finds new life far removed from that in the fast lane.
Cars may fall short of the familiar Disney feel, but what gives the movie an edge is the attention to detail and the characters themselves. Watch it, if you have a feel for wheels. Cars is wholesome, rip-roaring family fun.