Rating: PG

Starring: Hugh Jackman, Kate Winslet

Directors: David Bowers, Sam Fell

Age Groups: 1-12 and above

Recommended for: Dads and kids

Here's a reason to get into the car, drive down to the nearest multiplex, and plop your family down for a never before seen magical experience. This season, French director Luc Besson (director of The Big Blue and La Femme Nikita) brings to family audiences the larger than life quest story, Arthur & the Invisibles.
If your kids enjoyed "Antz" and "A Bug's Life", then this film is a guaranteed treat for the entire family. Besson combines groundbreaking CGI technology with live action sequences to make his story come alive for kids. The story is about a boy who, after his grandfather disappears, sets out to save his family home from emerging real estate developers. Arthur must unravel granddad's clues, meet a group of African tribesmen and, with the aid of a telescope, be reduced to the size of an ant so that he can save a community of underground elves (the "Minimoys") from the clutches of David Bowie's evil "Maltazard."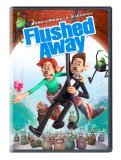 Click to Buy
Arthur & the Invisibles is a story about the true meaning of courage and the power of imagination. The film is bound to generate endless interested queries from your children about everything from changing their sizes to changing reality into full blown animation.
Parents should be wary about certain stereotypes though, such as typified working mom predicaments and African warriors whose sole purpose appears to be to help the white boy. Additionally, given the violent (though tame) scenes, this is not a film for the little ones. Dads are likely to find the film a little muddled and overwrought—especially the uneventful first half. Despite these few flaws, the movie will be entertaining for the whole family.