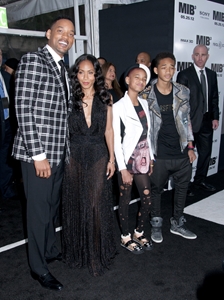 Rated: PG-13
Running Time: 1 hour, 40 minutes
Release Date: May 31, 2013
Child-friendly? "After Earth" has the combined chemistry of father-son duo Will and Jaden Smith on board, so kids are sure to flock to this sci-fi epic in droves. Despite the futuristic thrills and spooky near-alien life-forms inhabiting a devastated Earth in this flick, "After Earth" doesn't contain anything that most older children couldn't handle.
The former Fresh Prince of Bel-Air keeps trying to make Jaden Smith happen, and America just isn't having it. While it was cute to see little Jaden pairing up with Poppa Will in the heartwarming "The Pursuit of Happyness," the duo's recent film collaborations have missed the mark … and that's putting it lightly. Throw in the "expert" directorial skills of twist-that's-not-much-of-a-twist guru M. Night Shyamalan (except for "The Sixth Sense" – we'll always remember that one fondly, M. Night), and you've got yourself a classic recipe for Hollywood disaster with "After Earth."
Maybe it's the Scientology, but has anyone else noticed that America has kind of fallen out of love with Will Smith in recent years? "Men In Black 3" was a mess, and did anyone even go see "Seven Pounds?" Sadly, things don't fare much better for Miami's official greeter this time around. "After Earth," written by both Smith and Shyamalan, tells the story of Earth 1,000 years after humans were forced to flee from the planet.
Returning to their forgotten home world a millennium after an environmental catastrophe occurred, General Cypher Raige and his son Kitai find themselves in a spaceship above Earth, which has been transformed into an overgrown wilderness with enormous creatures dominating the surface. When asteroids strike their ship, Cypher and Kitai are forced to crash-land on Earth, resulting in Cypher becoming gravely injured. Kitai must then locate the separated tail-end of the spacecraft in the hopes of escaping the planet. However, along the way, Kitai encounters numerous animal and natural threats that have made Earth uninhabitable for humans.
While the setup for this film could have worked as a sci-fi allegory for the fate of Earth, it just ends up being a groan-worthy affair in hack filmmaking. Beyond the fact that Jaden Smith has little reason to be a Hollywood actor aside from his last name, the story is bumbling and makes little sense at times. SPOILER ALERT – the villainous creatures Kitai and Cypher must avoid are basically fear-smelling moles. That's not to mention direction from Shyamalan that makes "The Last Airbender" look like a cinematic marvel.
Child-friendly? As kids are usually impervious to bad acting and absurd plot lines, don't expect overwhelmingly bad reviews to deter them from seeing "After Earth." Luckily, Will Smith needs to set a good example for his son Jaden – so you don't need to worry about anything too inappropriate. Recommended for children ages 10 and up.