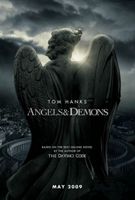 Rating: PG-13
Genre: Crime and Mystery
Release Date: May 15, 2009
Running Time: 138 minutes
Child-friendly?My kids, at five and nine, certainly aren't going to be munching popcorn and tossing back Raisinets while watching this film any time soon. Parents might be tempted to bring kids used to a certain amount of violence on TV and video games to a movie like this. However, Angels and Demons is a movie for older kids, 16 and up.
Reviews have been mixed on this movie and we'd have to agree that it's only so-so, especially in relationship to the earlier Da Vinci Code, which successfully brought the blockbuster book to life. In Angels and Demons, Professor Robert Langdon (Tom Hanks) goes deep into the world of the Illuminati, an underground organization that threatens the Catholic church. Once again, Langdon goes on a ticking-time-bomb journey as he follows ancient clues through the hidden sites of Rome. He is joined by a love interest, the beautiful Vittoria Vetra (Ayelet Zurer) though there are no sexual overtones to this relationship.
Dads who haven't read the book might enjoy this film more than its predecessor, especially since there has been far less hype for Angels and Demons. Even the Catholic Church has had little to say about the movie, underlining its weaker story line and premise. This movie is a lot more fluff and adventure than it is heretical or destabilizing to the dogma of the Church.
At the same time, dads should be aware of a significant amount of violence, including some gruesome deaths. This is the kind of film that would give kids, and some adults, nightmares after a viewing. At the same time, sexual themes are not an issue at all, nor is there very much profanity.