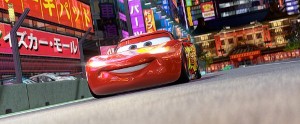 Genre: Animation, adventure
Rating: G
Release date: June 24, 2011
Runtime: 113 min
Child Friendly? Recommended for children of all ages.
If you're the type who'd rather not have to think when going to the movies, Cars 2 might be right up your alley. There's no rule that states a good movie requires thought, and this race-themed flick is proof that Pixar is still on top of its game. Many sequels merely repeat the story of the first film under slightly different circumstances–Cars 2 takes the plot in an entirely new direction from its predecessor. Although it's no match to the Ghostbusters sequel, this story will surely please the children and keep you interested in more than just a buttery tub of popcorn.
Featuring a group of talking cars who help each other win a big race in Tokyo, Cars 2 has its fair share of action and humor – with a little bit of espionnage thrown in the mix. The film also reminds us how much easier the world of auto maintenance would be if our vehicles could actually talk.
Instead of directing all of the film's focus to Lightning McQueen (Owen Wilson's character), Cars 2 sheds more light on Larry the Cable Guy's character, Mater, an American spy who wishes to discredit the world's highest performing automobiles. The supporting cast of acting legends like Michael Caine, John Turturro, Tony Shalhoub, Joe Mantegna, Eddie Izzard and Emily Mortimer drive the plot and keep things moving right along at a NASCAR pace.
Although there might be a shortage of voluptuous women in Cars 2, especially since it's animation, at least there's an abundance of motor vehicles. Another good thing is that you don't have to see the first Cars movie to keep up with this one. If your kids are practically yanking your arm out of its socket to see this flick, you might actually find yourself becoming attached to its simple-minded premise and quirky characters.
Child-friendly? Cars 2 is an adventurous story about talking cars who venture to Japan to show off their brass and prove to the world that they have more oomph than the eye can see. This movie is great for the family, as it can keep the teenagers just as engaged as the younger ones. Recommended for all ages.