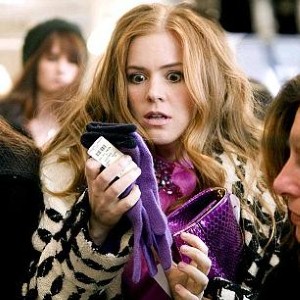 Movie Review: Confessions of a Shopaholic
Rating: PG
Genre: Comedy
Release Date: February 13, 2009
Running Time: 112 minutes
Child friendly?: As far as sex and swearing go, this movie is pretty mild. There is kissing, flirting and the occasional bad word. There is no violence. However, beyond these categories, some fathers may find certain themes in the movie objectionable. For example, the premise revolves around a woman who is addicted to shopping and gets over her head in debt. It's hardly an unusual story, but one that may result in a discussion about financial responsibility.
Tween and teen girls may flock to the movie Confessions of a Shopaholic, based on the popular novel by Sophie Kinsella, but they probably won't expect their dad to accompany them.
If you do decide to make the trip to the theater, be prepared for a traditional romantic comedy premise, with no great surprises.
Rebecca Bloomwood is an aspiring fashion journalist who winds up writing for a financial magazine under the supervision of a handsome British boss.
She successfully translates her love of shoes and handbags into a popular money advice column. However, at the same time Rebecca is trying desperately to keep a secret: she is horribly in debt and can't seem to stop shopping.
Perhaps the current economic climate does not present the best atmosphere for enjoying the tale of a woman spending beyond her means, but if you are looking for a bit of fluffy entertainment, this may fit the bill.
Fathers who go with their teenage or preteen daughters, however, may find themselves having a discussion about money management, debt and how a designer dress cannot solve every problem.