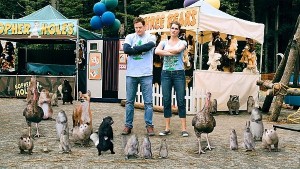 Rating: PG
Genre: Comedy
Release Date: April 30, 2010
Running Time: 91 minutes
Child-friendly? Furry Vengeance is a comedic story of man versus nature that takes place when a real estate developer threatens the habitat of some local forest creatures. It's filled with animal jokes and scenes of the animals taking revenge on the main character, played by Brendan Fraser. The film is rated PG and is recommended for kids aged six and up.
Furry Vengeance is the story of real-estate developer Dan Sanders, who relocates his family to the Pacific Northwest for his newest project. However, when the project threatens the homes of some local animals, the critters seek comical revenge by turning a peaceful cul-de-sac under construction into a battlefield of epic proportion.
Led by a clever raccoon, the diverse group of animals communicates with each other to wage an all-out war on Sanders that includes terrorizing him with skunk spray, animal pee and bee stings, among other things.
The movie has a star-studded cast, including Brendan Fraser as Dan, Brooke Shields as his wife, Tammy, teen idol Matt Prokop as their son, Tyler, and Ken Jeong as Dan's supposedly "green" boss real estate tycoon Neal Lyman.
Furry Vengeance contains a lot of violence in the form of Dan being tormented by the computer-generated animals. He's followed by a bear, urinated on by a raccoon, sprayed by a skunk several times and stung by a swarm of bees. The animals are also targeted by being chased, shot with tranquilizers and caged. However, the violence is not overly graphic and is suitable for children.
The language in the movie is mild as well, with just a few insults throughout.
Overall, parents and kids can use the message of the movie to discuss ways to protect the environment, to coexist with the animals in nature and to never compromise their beliefs and morals.