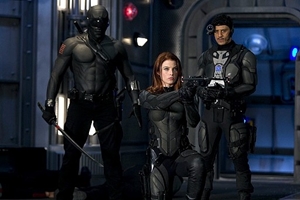 Rated: PG-13
Running Time: 1 hour, 30 minutes
Release Date: March 28, 2013
Child-friendly? The original G.I. Joe cartoon – based on the popular action figures – may have been a fun and futuristic military romp, filled with laser-wielding commandos, stealthy ninjas and a healthy dose of after-school-special moralizing, but "G.I. Joe: Retaliation" takes gratuitous and glamorized violence to the next level. You may want to leave the littlest children home for this PG-13 flick.
Back in 2009, a group of Hollywood film executives got it in their head that it might be a good idea to remake the beloved G.I. Joe comics and cartoons into an action blockbuster, titled "G.I. Joe: Rise of Cobra." They were wrong. The movie may have been a commercial hit during it's opening weekend, but fans around the world saw the film as a huge letdown.
Now, in true form, Hollywood has decided to give the franchise a second half-hearted crack with "G.I. Joe: Retaliation." The only difference? THIS TIME BRUCE WILLIS AND THE ROCK ARE ON BOARD!
Despite the sheer action star awesomeness possessed by by both Dwayne "The Rock" Johnson and Bruce "When Does Die Hard 6 Start Filming?" Willis, there never was much hope for a G.I. Joe sequel. You get the sense that even Michael Bay took one look at the script for this disasterpiece and said, "Not for me." Considering Bay's usual propensity toward all things explosion and macho one-liners, that's saying something.
This time around, the G.I. Joe team finds itself battling more than just their ever-present enemy Cobra, they're also fighting internal enemies buried deep within the U.S. government. "Retaliation" begins with the Rock, Willis and fellow hunk of beef steak Channing Tatum framed for crimes against America, resulting in the official termination of the G.I. Joe program by the president.
What's a team of elite special operatives to do in a situation like this? Well, their usual plan involves lots of explosives, gun fights, ninja battles and car chases… so yeah, they're going to go with that. That's not to mention incredible lines like, "Let's move! The world ain't saving itself!" GROAN.
All in all, "G.I. Joe: Retaliation" is typical Hollywood garbage that's heavy on action and totally lacking on plot, decent acting or any semblance of a point. You might think that would be enough to prevent us from having to endure another G.I. Joe flick ever again, but something tells me another sequel is right around the corner…
Child-friendly? While you might be quietly losing your mind in the theater, there's a good chance any little boys in your family will eat up the action and adventure in "G.I. Joe: Retaliation" with a spoon. There is a good deal of cursing, military violence and inappropriate content in the film, so parents should use their discretion before giving the OK on this one. Recommended for children age 10 and older.