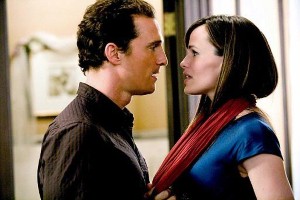 Rating: PG-13
Genre: Romantic Comedy
Release Date: May 1, 2009
Running Time: 100 minutes
Child-friendly?This is a typical romantic comedy, which means it includes plenty of sexual innuendo and discussions about sex and relationships. Expect to see scenes of long make-out sessions and groping. There is one scene that involves a clothed man being straddled by a barely clothed woman while they kiss. The film has mild profanity and various scenes of drinking. Parents should know there is one scene where an uncle buys his 8th-grade nephew a drink at a bar. Probably appropriate for teenagers 16 and up.
The spirit of A Christmas Carol is alive and well, and it's not even cold outside in most places.
Ghosts of Girlfriends Past is a romantic comedy wrapped up in a fantasy plot where a womanizer named Conner Mead (Matthew McConaughey) is forced to examine all his ex-girlfriends and how badly he treated them.
The story borrows heavily from the classic Dickens novel only instead of the Christmas spirit, Mead's lesson is about embracing love and committing to another person for the rest of your life.
This idea is the polar opposite of the character's ideology at the beginning of the film when he runs through girls like toilet paper (he breaks up with three at the same time via video conference call) and is convinced his younger brother is making a mistake by getting married.
In an effort to "save" his brother, Mead attends the rehearsal dinner and bumps into Jenny (Jennifer Garner), his childhood friend and the love of his life.
While the film is predictable, it rides on the natural charm of the McConaughey and Garner, as well as Michael Douglas, who plays Mead's late uncle. Douglas, who looks slick in his smoking jacket and sunglasses, is the one who tells his nephew about the upcoming night will "change him."
Parents shouldn't expect the film to "change" their teenagers who see the film, but should know there are numerous scenes of sexual innuendo and situations.