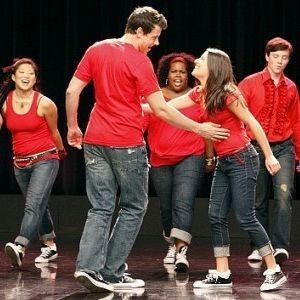 Genre: Comedy
Rating: PG
Release Date: August 12, 2011
Running Time: 1 hour, 40 minutes
Child Friendly? Any dad with a daughter knows about the show Glee. The series, which follows a choir of students who hail from all social cliques (and who tend to express their inner-most feelings through choreographed songs), is a genuine pop culture phenomenon. Interestingly enough, exactly zero of the students actually look like they're in high school, but hey – the chick who played Andrea Zuckerman on Beverly Hills, 90210, was practically a grandmother during her heyday, and no one as much as batted an eye back then.
Not so surprisingly, Glee: The 3D Concert Movie has been widely advertised in support of the live concert that is touring the country this summer. Those who follow the show (whether under duress or through their own volition) know that each scene is saturated with current pop songs rehashed by Broadway stars who have switched to television in order to rake in the bucks and become household names (Lea Michele, we're looking at you).
In our opinion, Madonna and Lady Gaga songs sound better coming from Madonna and Lady Gaga. Having said that, Glee: The 3D Concert Movie is a decent movie for children. It's kid-friendly and you won't have to worry about any long-lasting nightmares once you tuck them in for the evening (unless they're terrified of Gwyneyth Paltrow). And thanks to the fine-tuned comedic skills of Jane Lynch, who plays the tough-as-nails gym teacher Sue Sylvester, parents will also be able to enjoy a laugh or two.
And, if you leave the theater feeling like you're on musical-theater overload, a quick Google image search of Lea Michele and Diana Argon photos can help remind you that Glee's not all bad. It's ok – it's not like they're teenagers.
Child-friendly? Glee: The 3D Concert Movie is the feature film extension of the hit television series. The film documents the group as they perform on their tour this summer. Recommended for ages 5 and up.