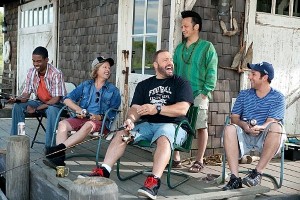 Rating: PG-13
Genre: Comedy/Family
Release date: June 25, 2010
Running Time: 102 minutes
Child friendly? "Grown Ups" is a film that stars former Saturday Night Live actors Adam Sandler, Chris Rock, David Spade, Rob Schneider and Maya Rudolph. It also features Salma Hayek, Kevin James and Maria Bello. The film tells the story of a group of guy friends who were once the star players of their school's basketball team. Thirty years later they reunite at their coach's funeral and wind up spending July 4th weekend with one another, where the differences between their families causes both friction and fun. The film contains several scenes involving crude humor, swearing, kids staring at women in bikinis and male rear nudity. Recommended for children ages 13 and up.
There are some sacrifices parents make for their children, and the film "Grown Ups" may be a shining example of what we endure for the sake of our kids.
The movie, an embarrassing escapade of poop, potty, breastfeeding and fart humor, may be right up a 13-year-old boy's alley. But is this really the way families should spend a few lone hours together?
Adam Sandler certainly thinks so. The once-funny comedian, who is also a poppa to two baby daughters, wrote the screenplay with Fred Wolf, the genius behind "Dirty Work" and "Joe Dirt." Never seen them? Join the lucky bunch.
In "Grown Ups," five former childhood buddies find themselves reunited after three decades. This includes Hollywood executive Lenny (Sandler), family man Eric (Kevin James), stay-at-home dad Kurt (Chris Rock), single guy Marcus (David Spade) and earthy-crunchy health guru Rob (Rob Schneider). The dudes were once the stars of their school basketball team, and in the present day they find themselves staying at the same lake house when they attend their old basketball coach's funeral.
It's a classic set up, with subpar results. Eric's wife, Sally (a misplaced Maria Bello) still breastfeeds their 4-year-old child, which leads to some surprising glances. Marcus slips and says the word "wasted," which leads to the children thinking it means "eating ice cream." Kurt's mother has a gargantuan bunion on her foot, which leads to dry heaves among the group (and moviegoers).
Not so surprisingly, you can credit Sandler's Happy Madison production company for bringing "Grown Ups" to a theater near you. Thanks Adam! Let's see if when your girls grow up, watch your movie and say they want to get wasted over and over at the dinner table, you will feel just as satisfied with the fruits of your labor.