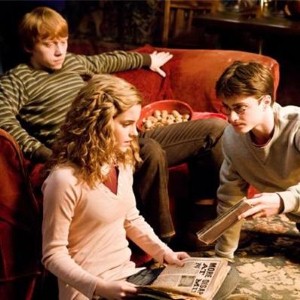 Rating: PG-13
Genre: Fantasy/Family
Release Date: November 19, 2010
Running Time: 2 hour, 30 minutes
Child-friendly? Recommended for ages 13 and up.
It doesn't matter if you've never read a Harry Potter book in your life, chances are you know what a muggle is and how the game of quidditch is played. Ever since the novels and movies took pop culture by storm, our kids have been obsessed with The Boy Who Lived and his enemy, He Who Must Not Be Named.
All of this hoopla is about to come to a close with the release of Harry Potter and the Deathly Hallows: Part 1, a movie that is pretty much a two-and-a-half hour trailer for Harry Potter and the Deathly Hallows: Part 2. Both of these chapters could have been condensed into one abridged flick, but that would mean less money for Hollywood studio execs, and of course we know they don't play that way.
So what is there to say about the second-to-last film in the series? For starters, it's long. The story follows the first half of J.K. Rowling's epic 784 page tome, in which the protagonist and his devoted pals scurry through a magical forest, plotting against their nose-less nemesis, Lord Voldemort (Ralph Fiennes). It's not exactly as dull as watching paint dry, but it's safe to say that Potter (played once again by the dorky but dead-on Daniel Radcliffe) has seen better days.
Still, children will adore the adventure and your teens will too. Harry and his crew are all grown up now, and their hormones are raging. Amidst all the wizardry and wandering glances, a true romance finally blossoms between Hermione Granger (Emma Watson) and Ron Weasley (Rupert Grint), and the film casts a spell no Potter fan could be impervious to.
And dads? Those who spent the last 10 years toting the kids to all of the previous installments might find that they're actually pretty invested in the story than years past. Maybe it's because the plot is thickening. Or maybe it's because Emma Watson is finally 18.
Child-friendly? Harry Potter and the Deathly Hallows: Part 1 follows Potter and his two best buds in the second-to-last chapter of the franchise. In the film, Harry, Ron and Hermione mostly run around a forest and attempt to kill the most evil of all beings, Lord Voldemort, once and for all. The movie feels long, but still manages to capture the magic and mystery of J.K. Rowling's characters. It also contains scenes with intense action, frightening violence, and some sensuality.