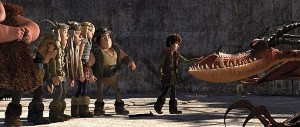 Rating: PG
Genre: Animated
Release Date: March 26, 2010
Running Time: 90 minutes
Child-friendly?How to Train Your Dragon is based on the book of the same name by Cressida Cresswell. It tells the story of a boy named Hiccup who catches a mysterious dragon but cannot bring himself to kill it. The movie, which is available in 3-D, may appeal to both young and old fans of other DreamWorks movies including Shrek, Madagascar and Kung Fu Panda. It does contain some scenes that could be scary for younger moviegoers and is recommended for kids aged 8 and up.
How to Train Your Dragon is the story of a Viking teenager named Hiccup who doesn't exactly fit into his tribe's longstanding tradition of being heroic dragon slayers. Hiccup's world is turned upside down when he captures a mysterious dragon but cannot kill it. Instead, when he's accepted into dragon training, he gets to know his dragon, who he names "Toothless," and helps the other recruits learn to quietly calm their dragons too.
Hiccup is then faced with the challenge of getting his fellow Vikings, including his father, Stoic the Vast, to accept that the dragons aren't what they thought they were. It's a change that will challenge all of the Vikings to see their world from an entirely different point of view and could cause them to deem him as a traitor.
How to Train Your Dragon is the latest animated film from Dreamworks and includes some big-name voices including Gerard Butler as Hiccup's father, Craig Ferguson as the dragon-training teacher, Jay Baruchel as Hiccup, America Ferrara as beautiful and brave recruit Astrid, Jonah Hill as arrogant recruit Snotlout and Christopher Mintz-Plasse as timid recruit Fishlegs.
Some of the dragons in the movie, especially when seen in 3-D, may be scary for younger audiences. Fathers should know that the dragons look scary and cause a lot of destruction, including burning down homes as well as killing and maiming people.
The movie does have several positive messages that parents can discuss with their children. Among them, Hiccup learns that the dragons aren't what he was taught they were and he learns that his father's love is unconditional. In addition, the movie sends the message that brains are as strong as brawn.