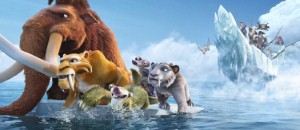 Rated: PG
Running Time: 1 hour, 34 minutes
Release Date: July 13, 2012
Child-friendly? Now back for their fourth prehistoric adventure, Manny, Diego, Ellie, Sid and Scrat return in Ice Age: Continental Drift to offer up the same child-friendly brand of slapstick and acorn-related humor that characterized the first three films.
Haven't these guys been wiped out by Neanderthals or worldwide climate change yet? For as long as the Ice Age movies have been around, it's starting to feel like the original film debuted during the actual ice age. Everybody Loves Raymond has been off the air so long that I'm pretty sure kids these days haven't the slightest clue about who Ray Romano is or why he sounds so tired all the time (his mother, obviously). This time around, Manny the mammoth (Romano), Diego the saber-toothed tiger (Denis Leary) and Sid the megalonyx (John Leguizamo) return for another adventure of trying to get somewhere quickly before everything around them melts – typical ice age comedy.
Just like every other Ice Age film, Continental Drift opens with that acorn-obsessed squirrel Scrat trying to bury his elusive nut – and once again, he causes a worldwide cataclysmic event that triggers the separation of Pangea into the seven continents we all know and love today (so that's how it happened… nice try, science).
While it's clear that Scrat couldn't give two acorns about this continental shift, Manny, Diego and Sid find themselves separated from their friends and family in a world going through a major identity crisis. With vast bodies of water now separating the characters, Manny, Diego and Sid hop aboard an iceberg in hopes of reuniting with the others. However, a group of prehistoric pirates make it their mission to stop our heroes from ever returning home.
I can't blame Romano, Leary, Leguizamo and Latifah from cashing in on another easy kids-movie payday, but it seems like by film number four they might have dealt with this whole "end of the ice age" plot device they've been using for the past 10 years. They even stumbled on an anachronistic band of dinosaurs in the last movie – what does it take to be extinct these days! Luckily, Continental Drift is only 90 minutes long, which gives you just enough time to drift off to sleep yourself…
Child-friendly? It doesn't matter that this story has been done to death three other times before – your kids are likely going to beg and plead with you until you take them to the theater. However, the usual kid-friendly humor and adventure isn't going to give anyone nightmares, so at least you won't have to rehash any saber-toothed tiger dreams later that night. Recommended for children of all ages.