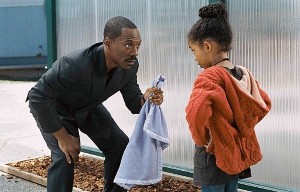 Rating: PG
Genre: Comedy
Release Date: June 12, 2009
Running Time: 100 minutes
Child-friendly? This Eddie Murphy movie is in the same vein as Daddy Day Care, his successful family film about an out-of-work father caring for the neighborhood kids. Since the film is being marketed specifically for families, fathers can expect light-hearted fare as well as some trademark comedic scenes with Murphy. There is some mild strong language, which garners the movie its PG rating. The movie is probably appropriate for children aged 6 and up.
Eddie Murphy returns to the screen with a family film that seems to be in line with Daddy Day Care, his 2003 hit.
In Imagine That, Murphy plays Evan Danielson, a financial analyst whose job is suddenly thrown into jeopardy when another employee, Native American-influenced Johnny Whitefeather (Thomas Haden Church), attempts to become the company's top advisor. The situation is complicated when Danielson's boss announces his retirement and desire to sell the company off, which leaves his position open.
Just as in Daddy Day Care, Murphy is in the role of the father who is devoted to his job and who hardly has time for his family. With his wife gone in a divorce, the only family he has is his 7-year-old daughter Olivia (Yara Shahidi), who is spending the week with her father.
Olivia has a strong connection with a certain blanket, which she calls her "goo-gah," and refuses to go anywhere without it. However, soon it's revealed that Olivia's imagination, aided by her blanket, can predict stock prices, which makes her an asset to her father.
In an effort to gain more tips, Murphy's character spends more time with his daughter and, in the process, bonds with her in a way he hasn't before.