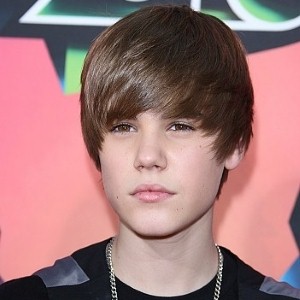 Rated: G
Genre: Music/Documentary
Running Time: 1 hour, 45 minutes
Release Date: February 11, 2011
Child-friendly? Recommended for ages 5 and up.
Somewhere after the Backstreet Boys and Zac Efron turned our preteen daughters into big piles of mush, a bizarre-looking boy with a strange hairdo stormed onto the scene. His name is Justin Bieber and it's safe to say he's on almost every dad's s#@! list.
What is there really to say about "The Biebs?" He sounds like a girl. He has better bangs than our wives. And he currently stars in a movie that your tweens will need to see opening night, or else be prepared for the hissy-fit of the century.
Surprisingly enough, Justin Bieber: Never Say Never isn't the bomb you're expecting it to be. Sure, the concert film-documentary doesn't hesitate to give hormone-riddled junior high-schoolers the money shots they're looking for – the chipmunk-cheeked 16-year-old sports croons passionately into the mic throughout most of the movie, allowing those under the age of 13 to swoon with ease. Still, snippets of old home movies and audition tapes may leave many adults in the audience in awe. While most of the N' Sync members danced around like clowns and the Hanson brothers tossed their blonde locks around like they were the shiznit, Bieber actually had some true talent as a (younger) youngster.
Never Say Never is a film that no adult will ever need to see again, but it's nice to know the cinematic experience won't be a truly painful one. When it comes down to it, the film could actually change your mind, and turn you into a true Belieber.
Child-friendly? Justin Bieber: Never Say Never is the long-awaited documentary that chronicles a performance from one of the biggest teen heartthrobs out there at the moment. Although the film will send most young girls into a tizzy, dads won't want to gauge their eyes out while watching it along with them. Recommended for ages 5 and up.