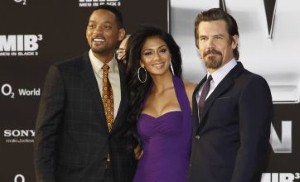 Rated: PG-13
Running Time: 1 hour, 43 minutes
Release Date: May 25, 2012
Child-friendly? There's certainly some raunchy humor and alien-related action scenes that justify a PG-13 rating for MIB III, but the classic duo of Will Smith and Tommy Lee Jones haphazardly fighting to save Earth once again is a formula that children young and old can enjoy.
If you're like me, you probably saw the initial trailer for Men in Black III and said, "Why would they possibly make a third Men in Black movie?" That thought may have been followed by, "Wait, when did the original Men in Black even come out? Has it really been 15 years?"
The point I'm trying to make here is that many of us probably never imagined that we would see Smith and Lee Jones team up once again as suit-clad defenders of the universe. And while the original film was certainly entertaining, you have to admit that the second one left something to be desired, despite the fact that it was still an enjoyable flick. However, my initial skepticism about MIB III soon gave way to excitement when I saw the trailer showing Agents J (Smith) and K (Jones) donning their signature sunglasses – as well as the always excellent Josh Brolin playing a younger K (time travel twist!).
Onto the story – in MIB III, a renegade alien named Boris the Animal (played by Flight of the Conchords' hilarious Jermaine Clement) murders Agent K in 1969, creating an alternate timeline in which the MIB and Earth are once again faced with obliteration – no surprise there. With K now vanished from the present, J uses his organization's resources to travel back to the 60s in order to prevent young K's death. Of course, no trip back in time comes without weird rules about preserving the space-time continuum (or something else sci-fi-y to that effect), so J must stop the plot within 24 hours or be trapped in the 60s forever.
It might seem like Smith, Jones and director Barry Sonnenfeld (who helmed the previous two MIB films) are pushing a half-baked sequel into theaters, but MIB III offers a fresh take on what made the other films so entertaining. So rest assured, you won't need to neuralize this one out of your memory.
Child-friendly? Goofy aliens, exciting special effects, a time travel plot and the tried-and-true buddy cop humor of Will Smith and Tommy Lee Jones/Josh Brolin make MIB III the perfect family film to go see this summer. You may not want to take squeamish children under 7 or 8 to view this one, but MIB has never been about alienating viewers – at least not in the way you're thinking.