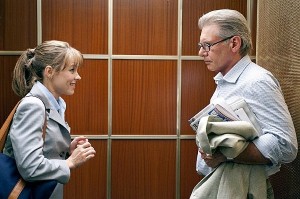 Rating: PG-13
Genre: Romance/Comedy
Release Date: November 12, 2010
Running Time: 1 hour, 42 minutes
Child-friendly? Recommended for ages 13 and up.
It doesn't matter if Rachel McAdams has short hair, long hair, red hair, blonde or brown – any way you slice it, she's hot. The girl has gone from the bitchy blonde badass in Mean Girls to the goody two-shoes brunette in The Notebook, and she never fails to look gorgeous. Put her up on a 40-inch screen, throw in a bag of popcorn to sweeten the deal, and any chick-flick seems doable.
Of course, McAdams' latest film, Morning Glory, is in an entirely different ballgame. Women will swoon and men will swear throughout it, and the two of you will agree on nothing except the awesomeness of Harrison Ford.
Morning Glory tells the story of Becky Fuller (McAdams), a perky television producer who gets hired to resurrect a failed morning news program called Daybreak. After she fires one of the co-hosts, Becky is desperate to pull the show out of the grave.
She finds her saving grace with Mike Pomeroy (Ford), a journalism legend whom she is able to blackmail into smiling for the camera. Pomeroy has gone from the depths of Iraq to talking about menopause, and his inner curmudgeon is released upon all those in his path. Indiana Jones still has great comic timing, and it shows.
Morning Glory infuses a love story with more than a few laughs, but because Ford isn't exactly fresh-faced anymore, he isn't going to cut it as a leading man. Because of this, Becky's fling is found in Adam Bennett (Patrick Wilson), a fellow television producer. Your daughters will find him as lovely as you find him nauseating.
In the end, the film may star Rachel McAdams, but even she isn't worth the trip to the theater. So what's a guy whose family wants to see a chick-flick to do? Here are three words that no dad ever thought he would utter – rent The Notebook.