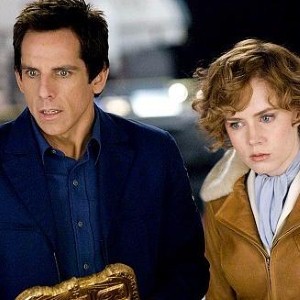 Rating: PG
Genre: Comedy
Release Date: May 22, 2009
Running Time: 105 minutes
Child-friendly?Families who saw 2006's Night at the Museum can expect more of the same with its sequel, only with more characters and a different setting, which is the Smithsonian in Washington DC. The premise is also fairly similar to the first film, with the "bad" historical figures attempting to take over the world and the night watchman trying to stop them. Though Night at the Museum is catered toward children, parents should know the action sequences can get quite loud. Probably appropriate for children 8 and up.
After the worldwide success of 2006's Night at the Museum, it was a pretty safe bet that a sequel would pop up eventually. What couldn't be predicted is how lackluster that said sequel would be.
The film reunites Larry the night watchman (Ben Stiller) with some of his old museum friends such as Teddy Roosevelt (Robin Williams), Sacajawea (Mizuo Peck) and Jebediah (Owen Wilson) the miniature cowboy.
Larry, who has made a career out of selling glow-in-the-dark flashlights through infomercials, hears that Sacajawea and Jebediah are being shipped from Manhattan's Museum of Natural History to the Smithsonian and decides to save them.
This gives the movie an excuse to bring in new characters such as a Tyrannosaurus rex and Amelia Earhart (Amy Adams), as well as bad guys led by Egyptian ruler Kahmunrah (Hank Azaria).
While children will most likely enjoy seeing some of their favorite characters on screen, fathers may be a little bored with the recycled plot. However, the film may give fathers an excuse to bring their children to the local history museum this summer.