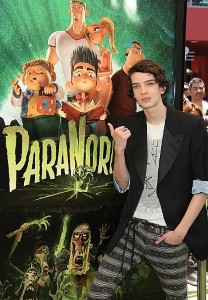 Rated: PG
Running Time: 1 hour, 33 minutes
Release Date: August 17, 2012
Child-friendly? While the ghouls and goblins featured in this animated comedy-thriller might spook the youngest of the young, ParaNorman mixes in plenty of paranormal humor to show kids that those things that go bump in the night may not be so scary after all.
SPOILER ALERT! Remember how at the end of the Sixth Sense… Wait, you know what? I take that spoiler alert back. If you haven't seen the Sixth Sense by now and MIRACULOUSLY still haven't heard the twist ending, there's nothing more I can do for you. That flick came out more than a decade ago – get with the program already!
Anyway, Bruce Willis plays a psychiatrist who helps a young boy (played by little Haley Joel Osment – what's he been up to lately?) who can apparently see and talk to ghosts. Oh yeah, and it turns out Bruce Willis is a ghost too. SURPRISE. Well, ParaNorman clearly takes a page out of M. Night Shyamalan's book of extra creepy stuff. Throw in some cool stop-motion animation and a goofy-haired protagonist, and you've got the Sixth Sense for kids.
Let me start by saying I'm a sucker for ParaNorman's style of animation. CGI is cool, but stop-motion provides an old-school authenticity that you just don't see enough of anymore. This is the same studio that did the super creepy Coraline film, so you can expect good things.
On to the story. We find our hero in the quaint New England town of Blithe Hollow, where, despite the normalcy of his surroundings, misunderstood Norman Babcock (voiced by Kodi Smit-McPhee) lives a not-quite-normal existence. Just like Haley Joel-Osment, Norman has the ability to speak to the dead, which puts him in the line of fire for all manner of ghosts, witches, zombies and monsters.
While his usual interactions with the dead and undead tend to revolve around bantering with the local spirits, Norman soon discovers that an ancient witch's curse plagues Blithe Hollow – unleashing a horde of ghouls on the all-too-oblivious townsfolk. With Bruce Willis nowhere to be seen, it falls on Norman to save the day – that is, if the grownups don't get in the way first.
Child-friendly? If your kids loved Coraline or Tim Burton's The Nightmare Before Christmas, you can bet they'll be begging you to see ParaNorman. And you know what, there's a good chance you'll find yourself wavering between white-knuckled kung-fu grips on your seat and fits of laughter too, because this film is a winner for children and adults alike. Just be sure to warn those little ones with overactive imaginations that it's all make believe… isn't it?