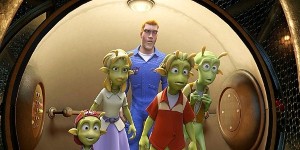 Rating: PG
Genre: Animated
Release Date: November 20, 2009
Running Time: 90 minutes
Child-friendly?Planet 51 is an animated movie about an astronaut that lands on a different planet and discovers a society of aliens that thinks he's the alien. The movie contains some jokes and repeated references to alien "probes" that may be inappropriate for small children. It also includes some mild violence with weapons and crude jokes that younger children may not understand. It is recommended for ages 7 and up.
Planet 51 is the story of a human NASA astronaut that lands on another planet and encounters life in the form of little green aliens who live in an idealized version of 1950s America. The aliens think the astronaut, Chuck, is like the character in one of their movies that turns everyone into zombies so they try to capture him. Chuck befriends a few teenaged aliens who help him avoid being captured so he can get back to Earth.
Dwayne "The Rock" Johnson is the voice of Chuck, while Justin Long, Seann William Scott and Jessica Biel are adolescent aliens in the film.
There are quite a few jokes about anal probing and a reference to an alien's penis in addition to some sexual-themed jokes that some parents may find inappropriate. The language in the film is tame with the worst words being "moron" and "stupid."
There is also some mild violence when the army and an alien scientist try to capture Chuck, but it shouldn't be overly frightening for most school-aged kids.
The movie contains some pop culture references and some brand-based consumerism with things like Twix bars, iPods and Volkswagens.
While it doesn't offer an educational theme, Planet 51 could spark a conversation on giving people a chance and the importance of friendship.