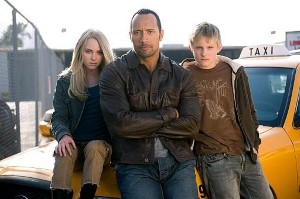 Rating: PG
Genre: Adventure/Science Fiction
Release Date: March 13, 2009
Running Time: 98 minutes
Child-friendly? This action-packed movie, although PG-rated, may be too intense for smaller children. There are guns and shooting, some hand-to-hand combat and threats of violence. Although nothing is explicit, there is the risk that children under 10 may leave the theater unsettled. There is no sex, nudity or swearing.
Race to Witch Mountain was inspired by 70s-era Disney films such as Escape from Witch Mountain and Return to Witch Mountain – but this installment has taken the innocent escapism of the originals and updated it with fast-paced action and modern effects.
Dwayne Johnson, also known as The Rock, plays a Las Vegas cab driver named Jack Bruno who picks up two supernatural twins from another planet.
Sara and Seth, the preteen brother and sister alien team, are determined to return home after their spaceship has crashed, but there are some roadblocks in the way.
One obstacle is the U.S. government, which is keeping their ship in Witch Mountain, a top secret compound in the desert. If the feds had their way, they would keep the kids and study their alien ways.
There is also an alien space assassin named Siphon, who is trying to track down the kids. Meanwhile, Jack enlists the help of a physicist and expert on UFOs.
Kids may enjoy the siblings' powers, such as mind-reading and shape-shifting, and the gentle humor and likeability of the stars is likely appeal to children and dads alike. However, parents of young kids should be aware there is a fairly high amount of guns, fighting and violent threats in this film, particular for something PG-rated.