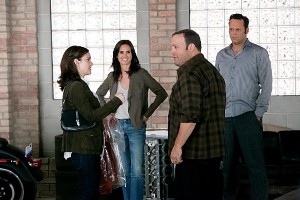 Rated: PG-13
Genre: Comedy-Drama
Running Time: 1 hour, 50 minutes
Child-friendly? Recommended for ages 13 and up.
Two words: Winona Ryder. Perhaps you remember the girl from films such as Reality Bites or Edward Scissorhands. Or, maybe you recall her stint as a badass shoplifter in 2001. It doesn't matter. The actress, who appeared in Black Swan and now The Dilemma, is apparently attempting to make a comeback, and we can't help but raise our glasses, hide our valuables and toast the woman for her moxie.
So it's no surprise that the latest comedy from Vince Vaughn and Kevin James is completely tolerable. Your kids will laugh, your wife will cry and you'll be singing My Sharona all the way home. All in all, it's a win-win situation.
The Dilemma, of course, doesn't attempt to break any boundaries – Vaughn plays Ronny, a lifelong bachelor whose business partner, Nick (James), appears to be married to the perfect woman, Geneva (Ryder). However, when Ronny catches Nick's wife smooching a younger man, he is conflicted about what to do.
Yep, that's it. That's is the entire story. And yet, somehow it comes together. Of course, both Vaughn and James have seen brighter days – Swingers and King of Queens are both dude-friendly gems that never fail to entertain – but the pairing of the two allows everything to click.
Another perk – Jennifer Connelly, who plays Ronny's girlfriend, Beth. While most dads would rather gouge their eyes out than be dragged to films such as A Beautiful Mind and He's Just Not That Into You, the casting of the raven-haired hottie in The Dilemma had us ordering tickets early, just to make sure we get a good seat. Consider her the "bad husband whisperer."
Child-friendly? The Dilemma tells the story of two buddies who own a car design business together. When Ronny, a cad, discovers that Nick's wife is hooking up with another dude, he runs amok trying to decide how to handle it. The film contains adult language and sexual content. Recommended for ages 13 and up.