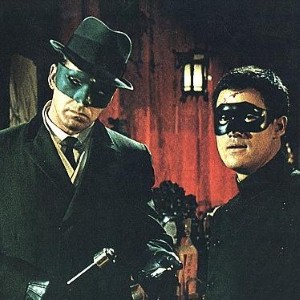 Genre: Fantasy/Action
Rating: PG-13
Release Date: January 14, 2011
Running Time: 1 hour, 45 minutes
Child-friendly? Recommended for ages 13 and up.
It seems as though everyone is getting their own superhero movie these days – yes, even Seth Rogen. The curly-haired goofball who usually scores way-too-out-of-his-league chicks in films recently suited up in order to play the Green Hornet. I'm still deciding which is less believable – this movie or Zack and Miri Make a Porno, in which he gets it on with Elizabeth Banks.
Whatever the case may be, the loser from Knocked Up did all right with this one. Here he plays Britt Reid, the son of a wealthy publisher, who winds up inheriting his father's millions. Instead of sticking with his womanizing habits, the dude decides to become a vigilante and fight crime.
Before you can know it, the obligatory sidekick enters from stage right – Britt's father's meek but resourceful mechanic, Kato (Jay Chou). The two throw a bunch of costumes together, tie black bandanas over their eyes and, suddenly, they're ready to save everyone's day.
Of course, Superman, Rogen is not. Still, between the intense action sequences, child-appropriate humor and the all-too-familiar 3D glasses given out at the theater, the film provides a great way for a family to spend an evening together without fighting over the remote control.
The best part of The Green Hornet? The casting of the most badass cinematic villain of 2009 – Christoph Waltz from Quentin Tarantino's Inglourious Basterds. Sure, his role here as an evildoer who's suffering through a midlife crisis is pretty much beneath him, but his performance remains spot-on. That's a bingo!
Child-friendly? The Green Hornet is the latest adaptation of the story of a young millionaire who decides to become a vigilante. It stars a slimmed-down Seth Rogen as the titular character, whose schlubby persona finally works on screen. The film contains violent action, language and some drug use. Recommended for ages 13 and up.