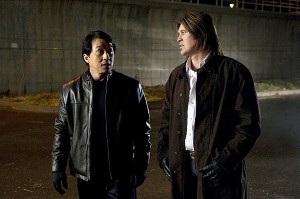 Rating: PG
Genre: Comedy/Action
Release Date: January 15, 2010
Running Time: 92 minutes
Child-friendly?Jackie Chan stars in the new action comedy about a CIA agent who learns that babysitting can be harder than being an undercover operative in The Spy Next Door. Fans of Chan's martial art expertise and comedic acting will likely find the movie enjoyable. It's rated PG and contains some mild rude humor and action violence sequences. For this reason, it's recommended for kids aged 8 and up.
The Spy Next Door is the story of an undercover CIA operative, Bob Ho, who's trying to impress the beautiful single mother next door. When she's called away, he's asked to babysit for and earn the approval of her three kids. Besides being an inexperienced babysitter, Ho ends up having to fight off Russian terrorists after one of the kids inadvertently downloads a secret code.
In addition to martial arts master Jackie Chan, the movie features other well-known comedic actors including George Lopez, Billy Ray Cyrus, Amber Valletta and Katherine Boecher. It's directed by Brian Levant – a veteran in the family comedy genre with previous films such as Beethoven, Snow Dogs and Are We There Yet?
The movie promises some great action sequences featuring Chan's martial art magic and comedic timing. It also contains some mild rude humor that may make it inappropriate for preschool-aged children.
All in all, The Spy Next Door offers families a fun adventure film filled with humor and action. Fans of other family-friendly films like the Spy Kids series and babysitting comedies like The Pacifier may enjoy this one as well.