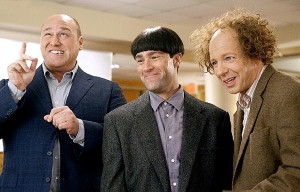 Rated: PG
Running Time: 1 hour, 32 minutes
Release Date: April 13, 2012
Child-friendly? A modern-day twist on comedy's most celebrated slapstick trio, The Three Stooges' raunchy, physical humor is a classic formula that appeals to children and children-at-heart alike.
The problem with making a film about a group as universally revered as The Three Stooges is that the benchmark is set awfully high for success. Along with classic acts like the Marx Brothers and Abbott and Costello, the Stooges are comedy legends that were instrumental in the early evolution of popular humor. However, their appeal also needs the right context – many of the trio's infamous slapstick gags were ideally suited to the 1920s and 30s, but don't translate well in a modern remake for today's audiences. Though hit-or-miss directors Peter and Bobby Farrelly (consider their films There's Something About Mary and Kingpin vs. Hall Pass and Shallow Hal) are clearly trying to pay tribute to one of their major comedy influences, they only succeed in making an average "kiddie" film.
Here's the story – Larry (Sean Hayes), Curly (Will Sasso) and Moe (Chris Diamantopoulos) wind up on the doorstep of a Catholic orphanage in their childhood, growing up into the whimsical troublemakers we all know and love. As adults, they become involved in a totally-not-unoriginal plot to save the only home they've ever known from whatever stereotypical evildoer the Farrelly Brothers decided to throw into the mix. Along the way, the Stooges wind up in the midst of a murder investigation and then starring in a reality TV show – a cameo opportunity for the cast of The Jersey Shore that the directors… thankfully… didn't waste.
In fact, the entire movie is filled with celebrity cameos – some as characters and some as themselves – which just goes to show how much Hollywood wants to honor The Three Stooges. Sure, it's great to see that comedians like Larry David and Jane Lynch want to support this Stooges tribute, but I just wish it was with a better film. The lowbrow appeal of the trio often falls flat with forced, unoriginal gags, but your kids won't notice for a second. Between people falling down unexpectedly, getting poked in the eye and the general mayhem that ensues as a result, The Three Stooges is filled to the brim with the kind of brainless humor that children can't get enough of.
Child-friendly? While the Farrelly Brothers are famous for their historically un-child-friendly brand of comedy, they clean up their act with The Three Stooges – making it a film that your kids will be sure to love – but you'll be left wishing you could just watch the original short films.