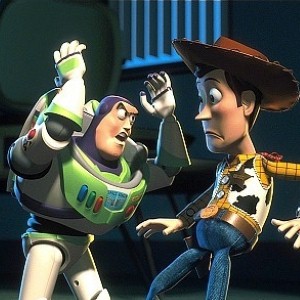 Rating: G
Genre: Animation/Comedy/Family
Release Date: June 17, 2010
Running Time: 103 minutes
Child friendly? "Toy Story 3" is the 11th feature length film by Pixar Animation Studios and the most recent chapter in the beloved franchise. It continues the story of Andy, a boy who once adored his toys but has grown into a young man and is about to leave for college. Because of this, his old playthings find themselves at a local daycare center and suddenly become entangled in scores of different adventures. The film is perfect for children of almost any age, yet adults will surely enjoy its subtle jokes and more mature humor. Appropriate for children age 2 and up.
At this stage in the game, is there anything that Pixar can't do? The production company is now responsible for 11 feature-length animated films that are chock full of every emotion a person can experience. From exhilaration to relief to cheerfulness, if you're human, you are going to leave the theater at least a little more enlightened than before.
So it really should come as no surprise that "Toy Story 3" is a brilliant, unforgettable gem. The third chapter in the franchise, which is being shown in stunning 3D quality, follows Woody (Tom Hanks), Buzz Lightyear (Tim Allen) and their gang of toy pals as they approach doomsday – their beloved Andy (John Morris) is going to college.
Yes, you heard right – Andy is 17 years old. Has it been that long since the little whippersnapper was playing with his toys and running around with skinned knees? Of course, the kid is nothing but a bunch of pixels, but that's the magic of these movies – whether you're 2 to 20 to 200 years old, somehow, you're going to care.
Through a series of mishaps, Woody and the gang wind up at Sunnyside Day Care, a place that, at first, seems like a toy paradise. There are children – and lots of them. The other trinkets and knickknacks are friendly. And the place is ruled by a seemingly comradely furry plush bear, Lotso (Ned Beatty).
Of course, the toys don't need a real, human brain for them to realize there's more to this supposed oasis than meets the eye. It isn't long before Woody and his plastic pals are coordinating a humorous, nail-biting escape that may be one of the best filmed prison breaks, ever.
Since the first "Toy Story" film landed in theaters 15 years ago, the studio has made us care about talking fish, rats, cars and robots as if they were living and breathing humans. They not only do the impossible – they are doing the unthinkable. Watching this movie with the family has only one downside – the kids will not stop gushing and adults will not stop beaming. Be prepared for the wonderful fallout.