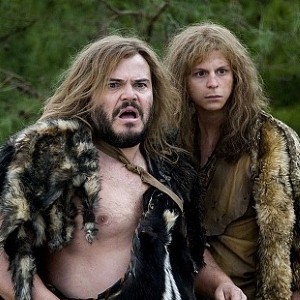 Rating: PG-13
Genre: Comedy
Release Date: June 19, 2009
Running Time: 100 minutes
Child-friendly? Though younger children may recognize Jack Black from School of Rock or Kung-Fu Panda, Year One may not be appropriate because of jokes about sex, passing gas and excrement. Also, much of the plot is taken from the Bible, which may confuse younger children as well as make some fathers feel uneasy. Despite its PG-13 rating, the film is probably more appropriate for older teenagers aged 14 and up.
Two weeks after Land of the Lost entered theaters, filmgoers are being asked once again to travel back in time, though in this installment it's to the very beginning.
Year One combines the comic sensibilities of Jack Black as the hunter Zed with the subtle and dry presence of Michael Cera's gatherer Oh (some audience members may remember Cera from Juno or television's Arrested Development).
After Zed eats some glowing fruit from the Tree of Knowledge, the two are cast out of their tribe and set upon a journey meeting characters from the Bible's Old Testament that include Cain and Abel, Abraham, Issac and slave girls dressed in skimpy loincloths.
However, this is hardly an accurate portrayal of the Bible's stories and some of the jokes may land on confused ears if there is no prior knowledge of some of these characters.
Aside from the religious aspect, fathers should know much of film's comedy is crude and discusses topics such as going to the bathroom, sex and passing gas. Some of the humor may even skirt the line with the PG-13 rating.
While there is some physical comedy, though it comes in the form of a character getting hit with stones, the film possess little for the younger audience and should be considered only for older teenagers.