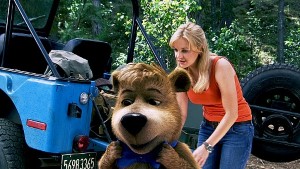 Movie Review: Yogi Bear
Rated: PG
Running Time: 1 hour, 22 minutes
Genre: Family/Animation
Child-friendly? Recommended for ages 5 and up.
Dan Aykroyd, have things really come to this? Yes, it's been ages since you and Steve Martin were nothing but two "wild and crazy guys" on Saturday Night Live and there's no denying that Blues Brothers mania has come and gone. Still, it seems like it was just yesterday that you were taking down the Stay Puft Marshmallow Man in the epic '80s flick Ghostbusters and earning thousands of fans in the process.
Dan, you should know that dads around the country still salute you these days, even though you've decided to voice the title character in the mess of a children's film known as Yogi Bear. A remake of the Hanna-Barbera cartoon that began in the late 1950s, this modern-day adaptation is nothing but a big boo-boo.
Speaking of which, the casting of Justin Timberlake in the role of Yogi's ever-faithful companion should have given you some indication that this film just wasn't for you. Sure, the picnic basket gags that take place in Jellystone Park may have been hilarious on the small screen, but when half-assed CGI is implemented and you speak in that strange muffled tone, it's pretty painful to watch.
The silver lining in this mess? The arrival of Rachel, a documentary filmmaker played by the blonde and beautiful Anna Faris. Sure, her character (who's looking to shoot footage of Yogi), only detracts from the story, but observe her wide-eyed stare while she prances around in skimpy if you want to attempt to get your money's worth.
Still, Dan, do you realize that even kids in theaters will be bored with all the hoopla? For the moment we'll just stick to watching The Coneheads with our families and praying that your comedic talents can once again be appreciated for what they truly are – better than the average actor.
Child-friendly? Yogi Bear is a reboot of the classic cartoon starring the one and only Dan Aykroyd as the mischievous title character. The film follows the shenanigans of Yogi and his partner-in-crime, Boo-Boo, and follows the pair as they meet Rachel, a hottie filmmaker looking to score some footage of the brown Badass bear. Recommended for ages 5 and up.