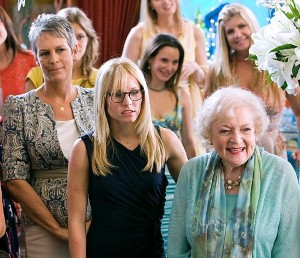 Rating: PG
Genre: Comedy
Release Date: September 25, 2010
Running Time: 105 minutes
Child friendly? Recommended for ages 12 and up
Watching You Again requires viewing the impossible. No, octogenarian Betty White doesn't bare all in this family comedy. No, Jamie Lee Curtis doesn't plug her bowl-regulating yogurt, Activia. Believe it or not, Kristen Bell – the babe from films such as Forgetting Sarah Marshall and Couples Retreat – looks ugly in this film. Like awkward family picture ugly.
It's been three years since the adorable blonde popped up on our televisions in Veronica Mars (our wives watched it for the thrilling detective story, we tuned in for shots of Bell), and she couldn't be hotter at the moment. Still, at the beginning of You Again she plays Marnie, a dweeb stuck at the bottom of the popularity barrel at her self-obsessed high school.
When we first meet the awkward teen, her appearance is somewhat rough. The girl has enough zits to empty a tube of Clearasil. Her glasses are ten sizes too big and her hair is greasy. Making matters worse, she continually gets locked out of her school and is constantly called a loser. When Marnie grows up to be a smokin' and successful public relations executive, she vows never to forgive the cheerleader who ruined her life, the bodacious bully Joanna (Odette Yustman).
Of course, in this respect, you can't blame Bell for looking less than par. Stick her next to the likes of Yustman – a woman with hints of Megan Fox (with much better thumbs) and traces of a Kardashian sister – and she drowns. And while Marnie breaks down when she discovers her darling older brother, Will (Jimmy Wolk), is marrying Joanna, the slammin' woman will give men in the audience a reason to cheer (and perhaps help them forget they got dragged to a chick flick in the first place.)
So, is it worth it? Strangely, the answer is yes. That's because in the end, there's something for everyone in You Again. Wives and daughters will adore the banter between Jamie Lee Curtis and Sigourney Weaver, who play Marnie and Joanna's parental figures and former frenemies. Teenagers live for these kinds of story lines. And dads who are summoned to the theater on a Saturday night will have a big heaping of eye candy to keep them entertained.
Of course, remember – when the credits roll and your wife gives you the side eye, just keep your head down and rave about Betty White.
Child-friendly? You Again tells the story of a successful woman, Marnie, who used to be a high school nerd. When she discovers her former nemesis, super-hottie Joanna, is engaged to her brother, Marnie starts to lose it. It also doesn't help that her wacky mother has her own issues with Joanna's rich, pretentious aunt. The film is relatively harmless, with exactly one brief kiss (no tongue) and scenes involving rude behavior (remember to tell the kids – throwing plates at your enemies is bad).