Rating: PG
Starring: Martin Lawrence, Ashton Kutcher, Gary Sinise
Director: Roger Allers, Jill Culton
Age Groups: 1-12 and above
Recommended for: Dads and kids

Open Season is an animated comedy with stunning visuals, a catchy soundtrack and charming characters that are family-friendly crowd-pleasers.
Boog, a domesticated 900lb. Grizzly bear finds himself stranded in the woods 3 days before Open Season. Forced to rely on Elliot, a fast-talking mule deer, the two form an unlikely friendship and must quickly rally other forest animals if they are to form a rag-tag army against the hunters.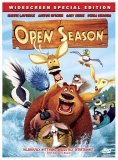 Click to Buy
Starring the voice talents of Hollywood favorites, Martin Lawrence (Boog) and Ashton Kutcher (Elliot), Open Season makes it as one of the best films to view in 2007.