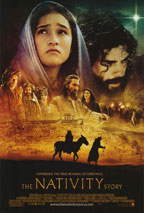 Rated: PG

Starring: Keisha Castle-Hughes, Shohreh Aghdashloo

Director: Catherine Hardwicke


Christmas is in the air and theaters too. This is also the time when you tell your kids stories of Christmas. If you are too pressed for words and time, you resort to movies that do the job. The Nativity Story is one such movie that retells this timeless tale. There is one problem, however. The Nativity Story somewhere falls short of being epic cinema. It has its moments of visual excellence, but overall, the movie fails to inspire. The plus points are that it is very family-friendly, and is a relief from the silly Santa flicks that crop up every season. The minuses could be that it misses the magnificence of the story, and tends to get lukewarm. Watch it for the spirit of the season, but a word of caution: you may feel you are at a greeting cards store. Have a Merry Christmas.