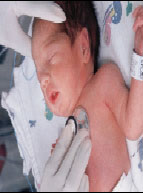 Your baby needs medical checkups during her first days, weeks, and months so the doctor can see if she is growing right. The way your baby grows in her first year can affect her health for life.

Checkups are a normal and important thing for babies. Even though your baby seems healthy, she should get checkups at one to two weeks of age, and at two, four, six, nine, and 12 months of age.

Your baby's first visit to the doctor will be a week or two after birth. Ask your doctor for the results of the hearing screening if it was done in the hospital. If a hearing test was not done, ask your doctor for a referral for the test. You need to know as soon as possible if your baby has hearing problems. If she does, she may need special help now so she can communicate with people. This will help her when she learns to talk and read.

At each checkup, the doctor or nurse will:
Examine your baby's head, eyes, ears, heart, lungs, and other body parts
Measure your baby's length, weight, and head size
Ask about your baby's hearing and vision
Ask you questions about how she eats, sleeps, and acts
Give you information about how a baby develops and grows
This content has been provided freely by CMC. Click Healthy Start, Grow Smart—Your Newborn for your free download. Click GreatDad Free Ebook to download the entire Health Start, Grow Smart series.
Note: For info on sex after delivery, subscribe now to the GreatDad newsletter for new dads.