Innovative New Website Gives Little Kids A Fun, Educational Online Experience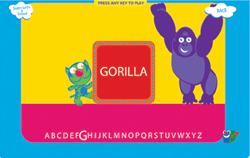 Sykesville, Maryland — — Toddlers, get ready to bang away! KneeBouncers introduces a new website that gives babies and toddlers the opportunity to play on the internet, without the use of a mouse. Loaded with games, little kids can make magic happen on the screen… with any tap on the key-board.
Invented out of necessity by two Maryland dads, KneeBouncers is the first and only site designed for babies. Jam-packed with 20+ games, little kids can hit the keyboard and see something visual and interesting on the monitor. A great experience in cause-and-effect!
Creator Jim Robinson says "When my older two children discovered the internet, they had a ball playing games and visiting fun sites. But their little sister was left out and out of luck. That was the inspiration for KneeBouncers. Now, we've given the younger kids their own online experience and parents get a break while their children enjoy endless entertainment."
On KneeBouncers, kids can explore The Alphabet, Numbers, Shapes, Colors, Play Peek-a-Boo, Pop-A-Lot, Choo-Choo, Music Maker, See-Saw, Bouncy, The Big Top, Bed Jump, Holey Moley, Splish Splash, Up-Up and Away, Vroom and Flashing Lights.
Co-Creator Kurt Dommermuth adds "We're building on the fundamentals of early learning by offering games that give toddlers their first experience with letters, numbers, shapes and colors. Not only do toddlers love them, but so do their parents and teachers."
KneeBouncers features a fun cast of characters that little kids will love to meet: Caesar the Silly Puppy, Freddy the Brave Little Bear, Horatio the Happy Happy Hippo, Foo Foo the Funny Honey Bunny, and Sammy the Busy Bouncy Monkey.
"Today, technology is a big part of our children's lives. KneeBouncers gives even babies the opportunity to get the feel for an online experience and yet parents don't have to worry about the content or the computer" explains Robinson.
GreatDad Contest

"Win a one-year subscription to Kneebouncers.com". Last date for entries is May 2, 2011.
Read the rules
and regulations.
Contest Update: The contest is
closed. See the winner's
page.