Recaro Brings Luxury Style and Colors to PopularChild Seats
Race-Proven Technology Meets High Fashion Design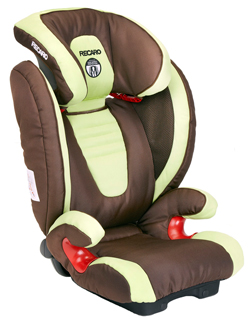 AUBURN HILLS, Mich. – Feb. 7, 2011 – Fashionable and trend setting
parents are about to have more to choose from when they purchase a Recaro child safety seat. Recaro, one of the world's leading manufacturers of child safety seats, is combining race track safety with luxury design and color combinations to create fresh and trendy options for parents.
Based on luxury automotive interior design and popular style trends, Recaro recently completed work on two chic new color choices for parents that will make their owners the envy of the carpool line. Recaro recently announced the introduction of the Hanna and Envy fashions, a combination of rich warm colors and innovative design cues.



"Recaro's current color palette was very much oriented around cooler colors and was designed to complement standard car interiors that were gray or black," said Jonathan Sieber, Director of Sales and Marketing at Recaro. "In keeping with trends in luxury car interiors, Recaro wanted to expand its line and create some additional options to complement popular warm interiors that feature dark chocolate brown, tan, and light brown trim."
Recaro hired popular Detroit designer Hanna Cushing to design the new fashions. The company was so thrilled with her work that they named the Hanna option after her.
"This all began with feedback from our customers," says Sieber, "our customers had asked us to consider a female fashion so we wanted to offer an option that would be attractive and turn heads."
The Hanna design features a saturated raspberry pink that fills the seat's primary seating area. The Recaro name accents the head rest, shoulder straps, and side of the seat. Recaro will begin offering the seat around Valentine's Day.
In addition to adding a feminine option, Recaro had also received feedback from customers asking for a gender-neutral option. This is particularly useful for families with multiple children as the gender-neutral option allows parents to reuse the seat for both boys and girls as the families expand.
Envy, the neutral option, features a combination of green, tan and, dark chocolate brown colors. Like the Hanna pattern, the Envy's green color accents the seat's interior seating area. The Recaro name is featured on the head rest area, both shoulder straps, and side of the seat. Recaro will begin offering the seat alongside the Hanna fashion in mid-February.
Sieber says that the combination of performance and design is something that parents are looking for when they consider purchasing a seat. "Parents want to know that they are buying a seat that will protect their child. They also want to have options when it comes to color choices. With the introduction of the Hanna and Envy color ways, we have now extended the best of both worlds and they will provide safety and look great in any vehicle."
Aside from the new color additions, parents are drawn to the company's reputation as one of the leading manufacturers of competitive racing seats. Recaro's child seats take design cues from the company's motor sports seats, which are engineered to protect drivers at extreme speeds exceeding 200 miles per hour. The seats blend fresh colors with the traditional lines, silhouette, and color blocking that have made the company's motor sports and automotive seats recognized and respected around the globe. In addition, each seat incorporates high quality fabrics that blend themselves to sophisticated colors and understated texture, such as the tan accent fabric used in the two new fashions.
GreatDad Contest

"Win a Recaro Car Seat ". Last date for entries is May 10, 2011.
Read the rules
and regulations.



Contest Update: The contest is
closed. See the winner's
page.