Burbank, Calif., June 4, 2009 – Disney's irresistible talking pups are back in SANTA BUDDIES: THE LEGEND OF SANTA PAWS, a heartwarming, all-new holiday adventure coming to Blu-ray combo pack and DVD on November 24, 2009 from Walt Disney Studios Home Entertainment. The beloved pups take a fantastic journey to the North Pole in an exciting new escapade featuring more new friends, fun,and teamwork than ever before unleashing a stocking full of holiday cheer with a fun-filled film and
plenty of never-before-seen bonus material. Perfectly timed for holiday gift giving, SANTA BUDDIES: THE LEGEND OF SANTA PAWS is sure to be at the top of everyone's wish list!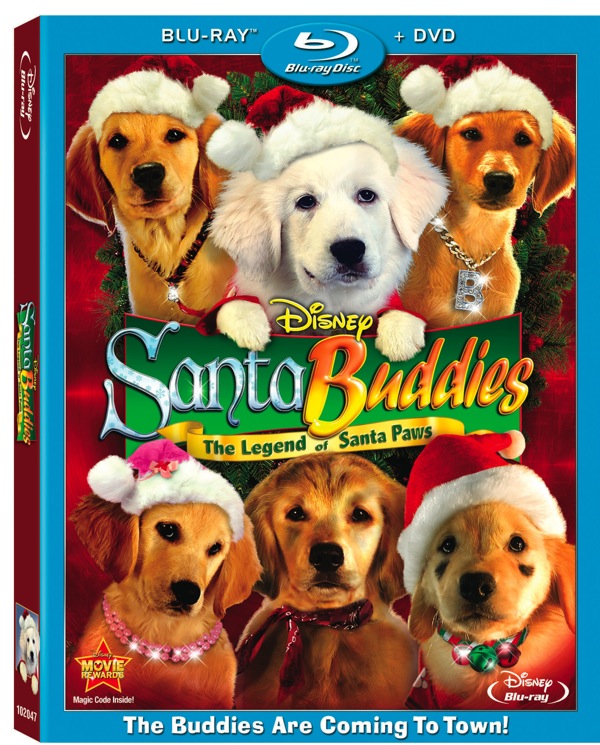 A quintet of adorable talking puppies followed the "Bud" movies in 2006, with the highly-anticipated launch of the BUDDIES series – and a puppy craze began as AIR BUDDIES became the biggest live action Direct-To-DVD movie of the year! Now comes SANTA BUDDIES: THE LEGEND OF SANTA PAWS, arriving this holiday season on Disney Blu-Ray hi-def and DVD, and sure to be their greatest and most heart warming adventure yet.
In SANTA BUDDIES: THE LEGEND OF SANTA PAWS, the lovable "Buddies," B-Dawg, Budderball, Buddha, Mudbud, and Rosebud embark on a thrilling journey to the magical world of Santa's Workshop. When Puppy Paws, the fun-loving son of Santa Paws, gets tired of the North Pole, he checks out Santa's "naughty" list and finds Budderball's name right on top. Puppy Paws heads south to meet theBuddies and find out how "ordinary" pups spend their days. But when the world begins to forget the true
meaning of the holidays and the magic of the season begins to literally melt away, it's up to Puppy Paws and his newfound Buddies to save the day in another epic adventure. Their extraordinary exploits highlight the importance of collaboration, courage and tradition in a joyous celebration of life and friendship. Sure to be a family favorite for years to come, SANTA BUDDIES: THE LEGEND OFSANTA PAWS delivers enough holiday cheer to last a whole year! It's Buddy-loving fun the whole
family will enjoy again and again.
SANTA BUDDIES: THE LEGEND OF SANTA PAWS stars the voices of Tim Conway (The Carol
Burnett Show), Richard Kind (A Bug's Life, Spin City), Tom Bosley (Happy Days), Field Cate (Pushing
Daises), Josh Flitter (Nancy Drew), and Skyler Gisondo (The Bill Engvall Show) and the acting talents of
George Wendt (Cheers) and Christopher Lloyd (Back to the Future). Robert Vince returns to produce and
direct his fourth "Buddies" film.
Movie Trailer:
GreatDad Contest
Win a Santa Buddies: The Legend of Santa Paws DVD and plush toy set or a DVD and Blu-Ray combo pack! To enter the
contest, simply tell us what's the most embarrassing Thanksgiving story you've
heard and why. Send in your answers using the comment form below. Last
date for entries is November 28, 2009.



Read the rules and regulations.
Contest Update: The contest is closed. See the winner's page.