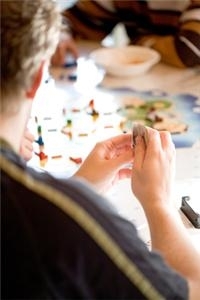 Have you been looking for a new way to connect with your kids? You might want to consider the benefits of holding a regular family board game night in your home. Not only is this a great way to have fun with your little ones, but it can bring you closer together as a family. Here are three reasons why this weekly event can be enjoyable for everyone.
1. Learning new family games
With kids absorbed by TV, the internet and video games, finding activities outside of the digital world has become more difficult for parents. Classic board games like Monopoly, Clue, Scrabble, The Game of Life and Trivial Pursuit are wholesome activities that encourage children to think creatively and strategically to win the game.
2. Bonding as a family
Like a family dinner, a board game night is a great opportunity for you to tune out the world and focus on spending quality time with your little ones. Over a roll of the dice, you can discuss recent events in school, new friends, local sports and numerous other topics that are interesting to your kids.
Having fun with new technology
Not all video games are devoid of educational benefits, as many recent games have been designed to engage the whole family in a meaningful way. Whether you're playing an interactive board game like Mario Party on the Nintendo Wii or working your whole body using the Xbox Kinect, digital mediums allow you to add a high-tech flavor to family game night on occasion.