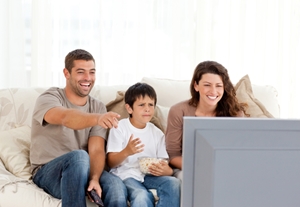 The air is crisp, the temperatures are dropping into sweater weather and "Breaking Bad" is coming to an end. Wondering what you'll do now that summer's over and long evenings outdoors grilling and playing catch with your kids are over? Luckily, a brand new television schedule for fall is about to arrive. But amid all the violent crime procedurals and adults-only HBO dramas, which shows make for good TV for a dad with kids?
"Adventure Time"
This Cartoon Network show is unlike any other kid's program you've ever seen. The show chronicles the adventures of Finn and Jake, a boy and his talking-dog, in the surreal land of Ooo. Its humor is weird enough for kids and clever enough for adults, as long as you can stifle your inner logic for each 15-minute cartoon.
"Bob's Burgers"
Remember the days when sitcoms were more family-friendly and wholesome? "Bob's Burgers," an animated FOX comedy, certainly has its share of Simpson's satire and Family Guy raunch, but at the end of the day it's an earnest and sweet show about family. Perfect for dads with older kids.
NFL Football
Redefine family game night. Start your kids on football when they're young and they'll grow up rooting for your team alongside you on the couch! Besides, what kid doesn't like pizza and cheering?