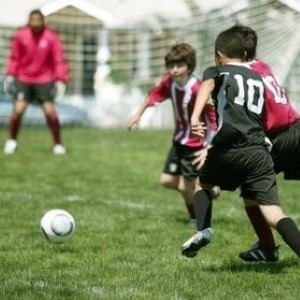 With the rate of childhood obesity on a steady rise over the last 30 years, encouraging your children to be physically active is more important now than ever. With the summer fast approaching, it's the perfect time for dads to take a look at whether or not their children are as healthy as possible. Here are a few tips that can make keeping your son or daughter fit a little bit easier.
1. Turn off the TV. The American Heart Associations recommends limiting total screen time (computers, video games television) to two hours per day. Instead of parking them in front of the tube, take your kids outside and enjoy the nice weather.
2. Do more than recreational sports. While getting your kids involved in anything from soccer to t-ball is a good start, a once weekly practice and game is hardly enough exercise. Why not head out with them to practice just the two of you?
3. Keep games lighthearted. Your kids may be less apt to want to go outside and shoot around or have a catch if you put pressure on them to play well.
4. Go for a walk or bike ride. If the two of you have been meaning to check out that lake nearby or wanted to go watch the high school baseball game, why not take an alternate mode of transportation to get there?
5. Get other kids involved. Your children will likely be more apt to play around and get exercise if they're not alone.