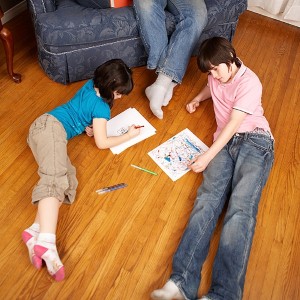 For many families that have to make arrangements for child care, now is the time to make plans for the back-to-school season.
Genevieve Thiers, founder of SitterCity.com, a website which matches parents with caregivers, says that parents who start looking for care early in August are the ones most likely to find the kind they want.
"All the parents send their kids back to school and college students come back to college cities, so everybody's child care arrangements get thrown up in the air," Thiers told U.S. News & World Report.
While working parents know how difficult good care is to find, as well as how expensive it can be, experts say there are some parenting advice tips fathers can use to save money on child care costs.
1. Work flexible hours. If your (or your spouse's) employer allows flex hours, job sharing or telecommuting, you may be able to use these to juggle your schedules and cut child care costs.
2. Share a nanny or babysitter with another family.3. Use a flexible spending account to pay for child care costs. This allows you to set aside part of your salary to spend on daycare costs.
4. Seek out a family day care. Family-run day cares are licensed and regulated by the state and often cost much less than traditional day care centers.
5. Hire an au pair. Au pairs usually cost much less than nannies or full-time daycare, but you must provide them with room and board.
No matter what type of daycare you choose, remember to rely on your instincts when it comes to the best situation for your family. Never compromise quality or safety when it comes to your kids' care.