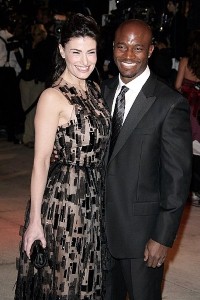 Private Practice star Taye Diggs talked about fatherhood and nicknames during a recent appearance on the Ellen DeGeneres show.
Diggs and wife Idina Menzel are parents to 6-month old Walker Nathaniel, who also goes by the nicknames Skywalker, Walkman, Walkathon, and Little Papa.
"I'm worried that he doesn't know his name because we have so many nicknames for him," he said.
Dad's favorite nickname for baby Walker is "Swirl."
"Because he's chocolate and vanilla swirl … and then on the back of his head he's got a little swirl."
Walker isn't the only Diggs guy going by nicknames these days, either, according to the actor. Diggs says his name has seemed to become "Honey could you just" since the birth of the baby.
"'Honey, could you just get me some tea? Honey could you just get the baby seat?' It's always right when I'm about to sit down. 'Honey, could you just…' 'Yes, baby!' 'Honey, could you just…' 'Yep, I'm right there!'"
Diggs stars on the Grey's Anatomy spin-off Private Practice. He's also known for film roles including How Stella Got Her Groove Back and Rent.