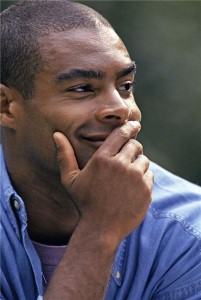 Many dads wonder whether they're doing a good enough job as a parent. After all, if this is your first child, how can you know if you're doing things right or making colossal mistakes at every turn? If we have one piece of advice for new dads, it's this: Relax. Being a great dad isn't tough – and here are a few simple ways you can ensure that you're on the right track.
"Being just physically present isn't enough to become a great father," says Catherine McCall in a column for Psychology Today. "It's critical for you to also be warm and emotionally available to your child."
When you are in touch with your own emotions, you set a good example for your kids, McCall continues.
Don't overreact or fight with your wife in front of your children. Resolve your differences with your words and talk often about how you feel. By doing so, you're helping your little ones develop emotional intelligence and the communication tools that they'll need to form their own platonic and romantic relationships throughout their life.
In addition to paying attention to your own emotional well-being, it's also important to listen to your child's feelings. Make yourself available to them so they can talk to you about their emotions. Be supportive no matter what they tell you, and recognize their anger and sadness before they escalate. According to the CDC, teenagers are especially vulnerable to many emotional disorders, like depression, eating disorders and even dating violence. By being attuned to your kids' emotions, you may be able to prevent these dangerous problems.
By doing this, you'll not only live a healthier life yourself – you'll be encouraging your children to happy, well-adjusted adults.